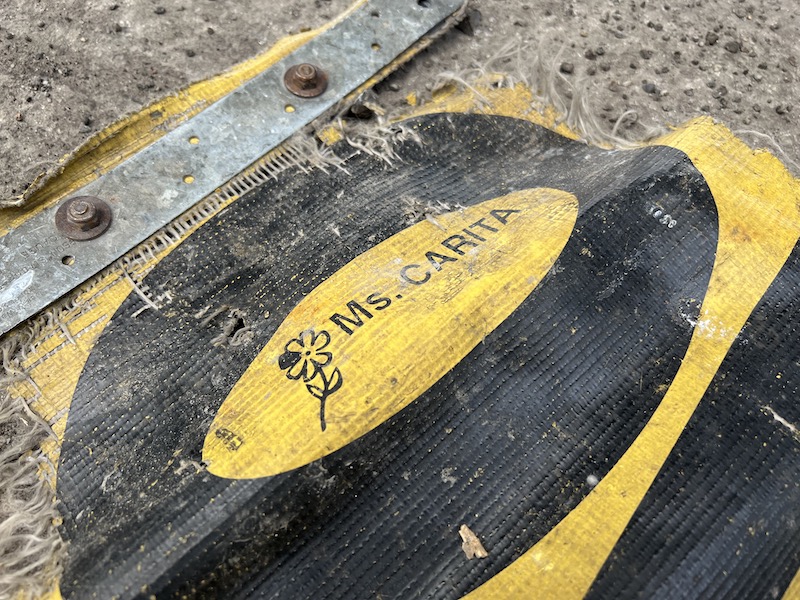 10-Year-Old Ms. Carita SafeTruck Vinyl OVERSIZE LOAD Banner
In February 2023, a couple of us from the Ms. Carita SafeTruck crew were driving to Verdi, NV when we stopped at the Donner Pass Rest Area near Truckee, CA. After multiple cups of coffee and a long drive from corporate in Livermore, CA, the quick break was a much-needed stop. To our surprise, upon walking inside we spotted something sort of legendary…. Something you only hear about in legends nowadays. Right inside the front doors of the snow-covered rest area building was a pay phone mounted on the wall. We took a picture to document this gem as they are about as rare as finding Sasquatch in the Pacific Northwest.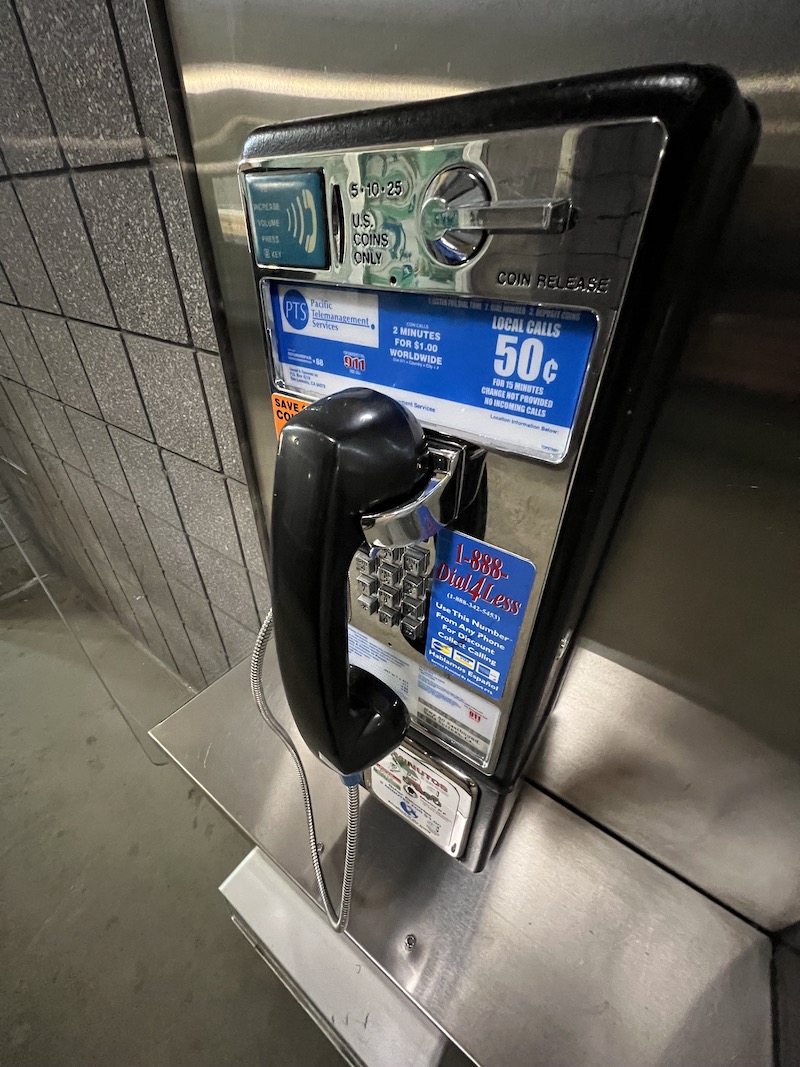 Last known Pay Phone in North America?
After comparing the pay phone to the last Blockbuster movie rental spot in Bend, OR, we walked back outside and saw something even better…. We noticed a power unit and trailer with a bunch of Ms. Carita SafeTruck products on it (hopefully not as rare as the pay phone).
We approached the driver and met Leonel Corado, a heavy-haul driver for a local crane company. Mr. Corado had wood OVERSIZE LOAD signs on his power unit and the back of his trailer. He also had Fox Fire Lights and Wire Loop Truck Safety Flags. Mr. Corado said he was driving to Reno, NV when his tire blew out on Intersate-80, prompting him to stop at the rest area.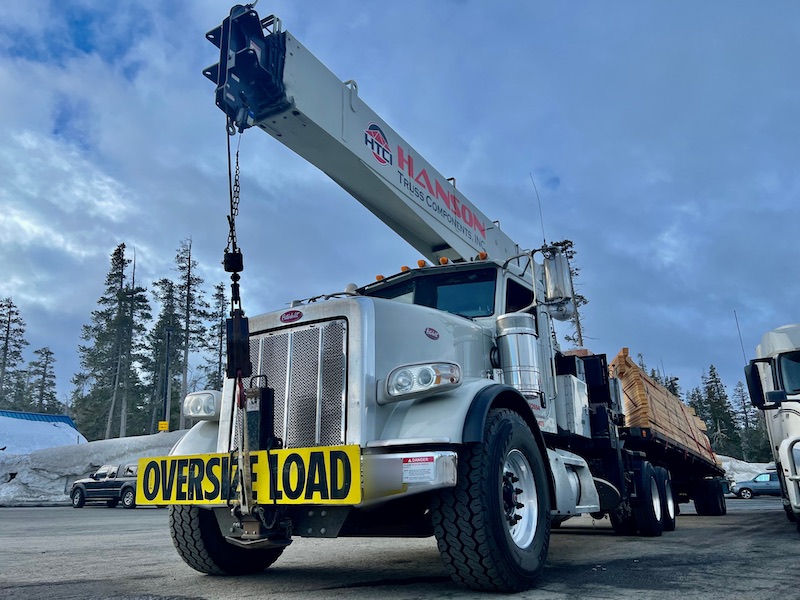 Leonel Corado's OVERSIZE LOAD haul with a wood Ms. Carita SafeTruck sign.
While talking about his Ms. Carita SafeTruck safety gear, Mr. Corado mentioned he only uses our products. Mr. Corado liked the wood signs, but he loved his vinyl OVERSIZE LOAD banner.
Mr. Corado then went back to his truck and pulled out from behind the seat an old Ms. Carita SafeTruck OVERSIZE LOAD Grommet Banner. The banner was weathered from miles upon miles on the road. It was torn in several places and had dirt, oil, and grease on its safety yellow background color. Affixed to both ends were two pieces of flat metal clamped together with the remnants of what was a bungee on one corner. Mr. Corado modified the banner himself, so he could mount the banner on the front of his truck.
With a smile of pride, Mr. Corado unrolled his banner and pointed to it, explaining he has had this banner for about 10 years. Mr. Corado described it as being one of the best products he has used as a heavy haul driver due to its durability and quality. He never had a reason to replace it, so he just kept on using it – OD load after OD load.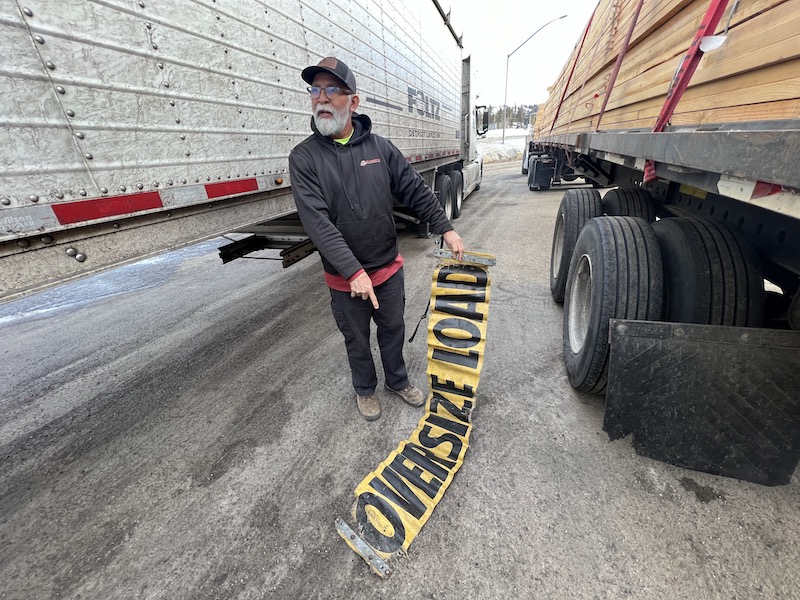 Leonel Corado with his 10-year-old Ms. Carita SafeTruck OVERSIZE LOAD vinyl banner
With Mr. Corado's permission, we photographed his OD load with his Ms. Carita Safety Products and his 10-year-old vinyl OVERSIZE LOAD Banner. After which, Mr. Corado proudly rolled up his banner and put it back into his truck. As a gesture of appreciation, we exchanged contact information and sent him a new 12" x 72" OVERSIZE LOAD vinyl banner, which will hopefully last him another 10 years on the road.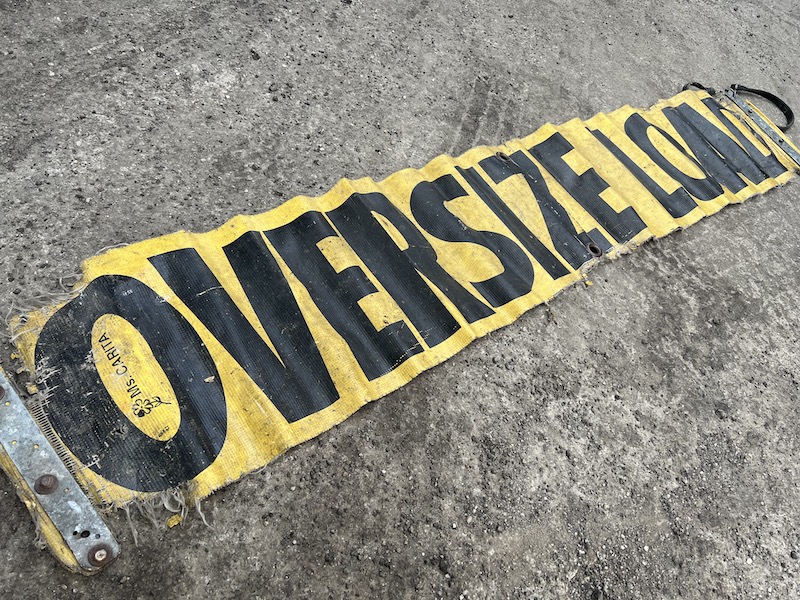 10-Year-Old Ms. Carita SafeTruck CV104 12" x 72" Vinyl OVERSIZE LOAD banner
Thank you Mr. Corado and all you other Safe Truckers out there who use Ms. Carita SafeTruck Products.
Bigger. Stronger. Safer.
Ms. Carita SafeTruck.