A challenge for any manufacturer is bringing products to market. Some might focus on local distribution for a nearby customer base, but when a company is supporting customers nationwide, it becomes a daunting task. Especially when we started this business in 1972, long before the internet was around. This is one reason trade shows, like the Mid America Trucking Show, became so important to create brand awareness and meet distributors, especially since we don't sell directly to the driver or operator.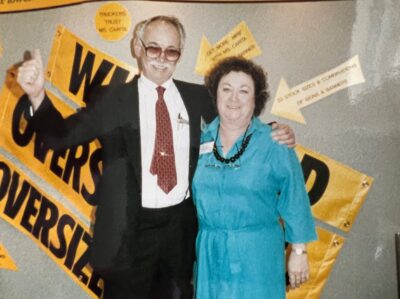 Merritt and Carita Mosby at Mid America Trucking Show in the 1980's
During one of these shows in the 1980's, our founders, Carita and Merritt Mosby, spoke to some friends, Bob and Virginia from J.V.R. Safe-T-Signal. Bob and Virginia suggested working with rep firms. These representatives were and are veterans in the industry and could assist a manufacturer with bringing Oversize Load and Wide Load Safety Banners, Signs, and Flags to a national, heavy-duty marketplace. Carita and Merritt took their advice and soon after partnerships with rep firms around the country began.
 Rep Firms – Nationwide Representation
Today, we have partnered with rep firms throughout the United States, Canada, and Puerto Rico to support our distributors and work with new ones. Since our products are sold through qualified heavy-duty parts distributors & truck dealers, these rep firms are instrumental in supporting our brand and being the bridge between us and the distributor. The rep firms we work with are listed on our website's Find a Rep page and can be found simply by clicking on a state or region.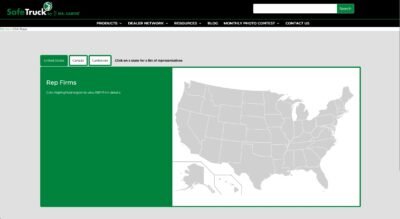 Ms. Carita SafeTruck Find a Rep Web Page
Steps to Become a Ms. Carita SafeTruck Distributor / Dealer
There are four simple steps in becoming a Ms. Carita SafeTruck Distributor: Contact Us, Getting Set-Up, Product Inventory, and Continuation.
1) Contact Us: When you express interest in becoming a dealer or distributor, we take the initial step of connecting you with one of our knowledgeable representatives. We strive to our commitment of Better Dealers Deliberately, so our representative will carefully evaluate and assess your inquiry to determine your qualification for partnership. We value professionalism and efficiency, so you can trust that your inquiry will be handled promptly and with the utmost diligence. Using our Become a Dealer form is a straightforward way to contact us about your inquiry.
2) Getting Set-Up: Once our dedicated representative determines that you meet the criteria to become a distributor, we streamline the set-up process to ensure a seamless experience. Our set-up procedure is designed to be quick and simple, allowing you to swiftly move forward. We understand the importance of your time and aim to minimize any delays, enabling you to start reaping the benefits of our partnership without unnecessary complications.
3) Product Inventory: As a distributor, it is essential to have a commercial facility to stock our high-quality products. We are committed to delivering superior products and maintaining efficient supply chain operations. Therefore, we require our distributors to have the necessary infrastructure. By maintaining a stocked inventory at your commercial facility, you can provide timely access to our products for your customers, ensuring smooth order fulfillment and customer satisfaction.
4) Continuation: At our manufacturing facility in Verdi, NV, we prioritize timely order fulfillment and exceptional service. Once you are established as a distributor, you can count on our commitment to fulfillment efficiency. We take pride in our ability to process, pack, and ship orders within a remarkable 72-hour timeframe. All shipments originate from our location in Verdi, NV. With a fill rate that consistently exceeds 97%, you can confidently rely on us to meet the demands of your customers and maintain a high level of customer satisfaction.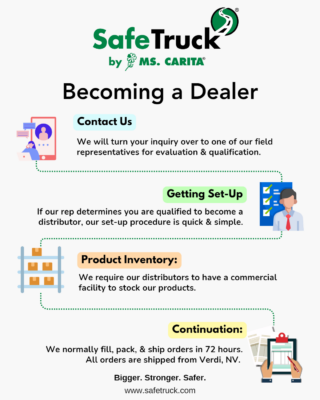 Becoming a Dealer is a Simple Path
By following these four steps, you can embark on a fruitful partnership with us, leveraging our efficient procedures, superior products, and commitment to customer satisfaction. We look forward to working closely with you as you establish yourself as a valued distributor and enjoy the benefits of our mutual success.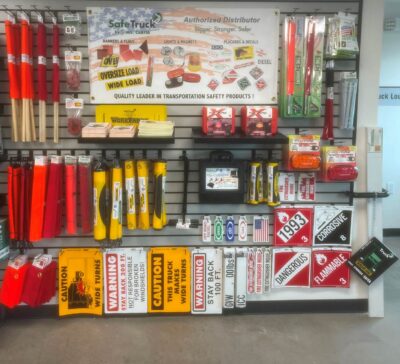 Ms. Carita SafeTruck Wall Display of Truck Safety Products at a Distributor
Ms. Carita SafeTruck
Bigger. Stronger. Safer.