Your hands are an important piece of your body as you use them every day, all day. Therefore, they are something to be protected. SafeTruck Leather Gloves are bright "Safety Yellow" on top of top-quality leather gloves which keep your hands easy to see and help prevent injuries. Our SafTruck Hi-Viz Gloves are great for low visibility. The knuckle straps have a reflective strip. These are great for cold weather too as the 3M Thinsulate™ lining keeps your hands warm.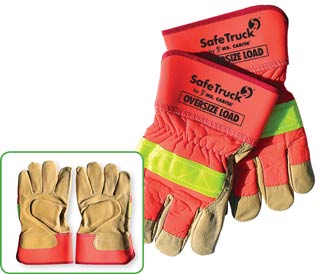 Safetruck Leather Gloves
Accidents can happen fast if your hands are not visible.
Bright "Safety Yellow" backs on these top-quality gloves keep your hands easy to see and help prevent injuries. Safetruck gloves are sewn from heavy side-split leather, the best wearing portion of the hide. 10 oz. Heavy cotton backs ensure your Safetruck gloves will outlast other gloves.
SafeTruck Glove P/N's

| P/N | Size |
| --- | --- |
| 11181LTXLG | X-Large |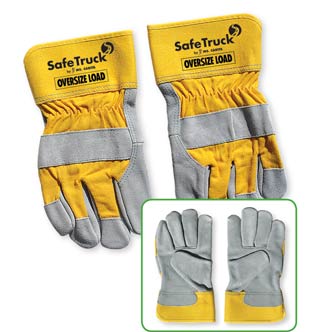 Safetruck HI-VIZ Gloves
Wear these lined gloves at night or in low visibility conditions. Knuckle straps reflect light at extreme distances. 3M Thinsulate® lining traps warm air, wicks perspiration. Pigskin palms stay soft, even when wet.
SafeTruck HI-VIZ Glove P/N's

| P/N | Size |
| --- | --- |
| 2082XLU | X-Large |