Safety Lighting is important while on the job. These specialty lights can assist with being seen at night. The outback F5 LED Tailgate Light Bar has 5-fuctions while the Magnetic Tow Lights are a low cost solution when towing cars or trailers. The Portable Safety Light works great with our banner bracket strobe light attachments.
Magnetic Tow Lights
High quality, low cost. These lights have adjustable rubber heads with sealed lamps, 30 ft all weather cable with a 4-way diecast plug. Great for towing cars, trailers and dollies. P/N: MTL101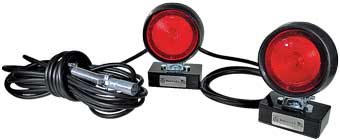 Portable Safety Light – Amber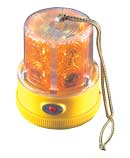 Compact and portable 360-degree LED light
Contains 24 ultra-bright LEDs
Includes carrying strap and magnetic base
Optional use photocell
Runs on two "D" batterries (not included) for 300-400 hours
P/N: PSLM2-A

Show your seat belt is on from a distance while driving or operating machinery day or night with SafeTruck's Hi-Viz Seat Belt Cover.
100% Polyester with Velcro closure for easy attachment
Two reflective stripes for added night visibility
Available in Orange & Yellow
| P/N | Description |
| --- | --- |
| LUX-900-O | Orange |
| LUX-900-Y | Yellow |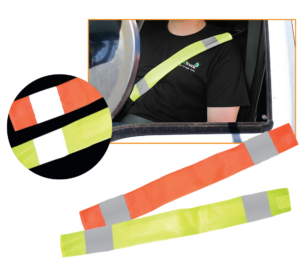 Safe-T-Signals
Universal Wide Turn Signal

8″ Electric blinking arrow, amber, 12 volt
8″ x 12″ D.O.T. approved statement (not applied)
18 gauge galvanized steel construction
CHP & D.O.T. approved under section #108
Overall Size: 8″ x 18″
P/N: MSG1800 One part fits EITHER side!
Left or Right Wide Turn Signal

8″ Electric blinking arrow, amber, 12 volt
8″ x 15″ D.O.T. approved statement
18 gauge galvanized steel construction
CHP & D.O.T. approved under section #108
Overall Size: 8″ x 24″
P/N: LEFT: MSGL101, RIGHT: MSGR101

All Safe-T-Signals include pigtails & mounting hardware