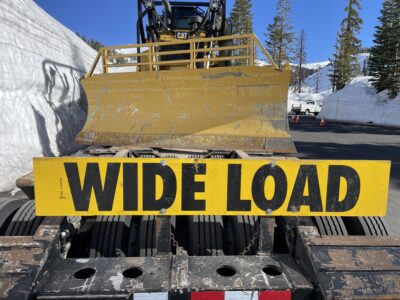 Ms. Carita WIDE LOAD sign used by the National Park Service
At first glance, many OVERSIZE LOAD signs or banners might look the same. These types of truck safety products usually have a yellow background with black letters either sewn into the material or printed on (depending on who makes them). While driving down the highway at 65+ mph, they look like a normal sign, warning other drivers and keeping the truck driver out of trouble with law enforcement. However, not all Truck Safety Signs are created equal. Many products today have been outsourced offshore to try and cut costs but in return is a product that doesn't stand up to the hard conditions drivers face today.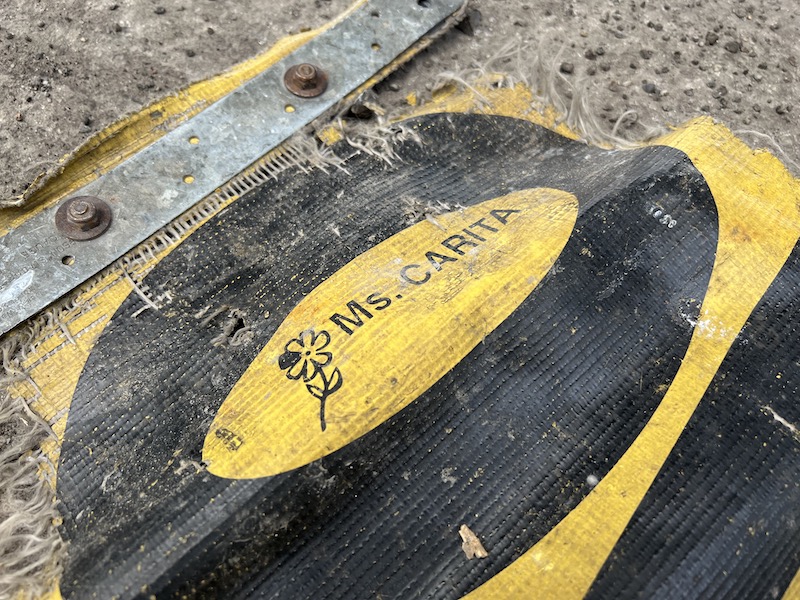 10-year-old OVERSIZE LOAD Banner used by a driver in Truckee, CA
For 50 years, we have built a reputation on building the longest lasting, highest quality Truck Safety Products on the market. We don't want our products being replaced at every refuel point. Instead, we want drivers and fleets to have a premium safety product that not only cuts down on replacement costs but ensures drivers and motorists are safe on the roadways.
But for many drivers, fleet managers, or safety personnel, identifying whether you have the best product in the industry or not can seem like a difficult task. We are here to explain – it's easier than one might think.
Who is Ms. Carita?
Before we get to "how to find" our truck safety banners, signs, and other products, we need to do a quick history recap as the answer partially lies in our past. In the early 1970's, founders, Carita and Merritt Mosby, were raising a young family in the Greater San Francisco Bay Area. Merritt worked as a truck driver for several companies hauling heavy machinery throughout Northern California. At the time, Merritt received several tickets from the California Highway Patrol for "illegal" WIDE LOAD and OVERSIZE LOAD signs on his trailer. The tickets started to stack and was costing the family money they didn't really have. As a result, Carita wrote a letter (this is in the early 1970's as a reminder) to Sacramento and obtained the specifications for what the state considered to be a "legal" truck safety sign. Carita and her sons began making these signs in their garage for Merritt to use and of which the CHP officers were okay with. As a result, Merritt stopped getting tickets.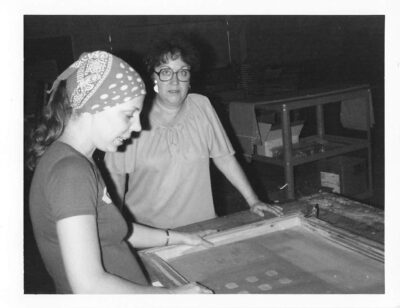 Early 1980's, Ms. Carita (right) helping one the company's first employees (left)
Merritt's colleagues saw the signs and liked them as did eventually some local dealers and fleets. In 1972, Carita and Merritt officially started their business and named it "Ms. Carita." The thought process behind the company brand was, "a feminine name in a macho industry." In other words, drivers, who were predominately men, would remember a female name when it came time to find truck safety products.
Logo in the "O" or by the "W"

Since that time, the name, "Ms. Carita" with a flower outline has been printed on every banner and sign made by our small company. Regardless that 20 years ago, we rebranded as SafeTruck by Ms. Carita, our gear has had and will always have "Ms. Carita" on it.  This has kept our brand consistent over the last five decades but also serves as a simple way to find our signs and banners out on the highway. In the "O" of OVERSIZE LOAD or next to the "W" of WIDE LOAD or next to the "L" of LONG LOAD, the iconic flower and "Ms. Carita" will be on all our signs and banners.
Carita is no longer with us as she passed in 2021, but her legacy lives on as we strive forward with providing the industry with American Made Truck Safety Products utilizing premium materials.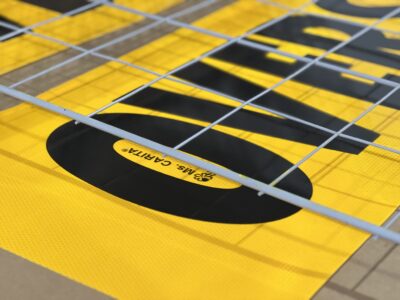 The flower and Ms. Carita in the "O" of a freshly printed OVERSIZE LOAD banner
Legacy Products
Over the last five decades, we moved a few times before settling in Verdi, NV. This is where our primary team works each day to manufacture and provide the longest lasting and best Truck Safety Products known to the Heavy Haul and Heavy-Duty Industry. Many of our Legacy Products include banners, signs, and flags with enough variety to meet individual state requirements across America. Most all of which are proudly made here in the good ol' USA. We thank all our customers over the years for being a part of this legacy and want to invite those who don't know about us to be a part of the Ms. Carita SafeTruck family.
Remember – while driving down the highway – if you see that flower outline and the name "Ms. Carita," it was made by us.
Bigger. Stronger. Safer. 
Ms. Carita SafeTruck