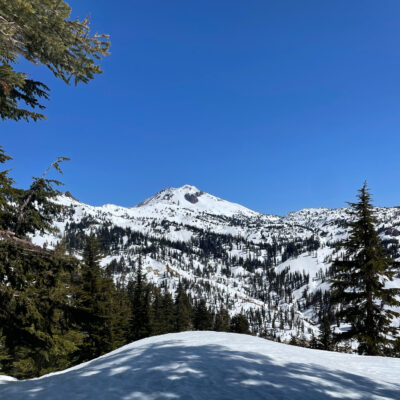 Lassen Peak at Lassen Volcanic National Park
Located in Northern California, Lassen Volcanic National Park is a hidden gem. A part of the Southern Cascades, with beautiful landscapes, snow, mountains, and volcanoes, this park gets dumped on by frozen water every year, providing great opportunities for backcountry skiing and snowboarding in the Spring and early Summer.
There is one, main road (Highway 89) which runs through the park and connects the two visitor centers. This road gets burried in snow annually, preventing vehicle travel through the park during Winter, Spring, and Summer. As a result, the National Park Service (NPS) hauls in large, heavy equipment every Spring to begin plowing the road and reconnecting the two visitor centers. This process can take a few months to complete.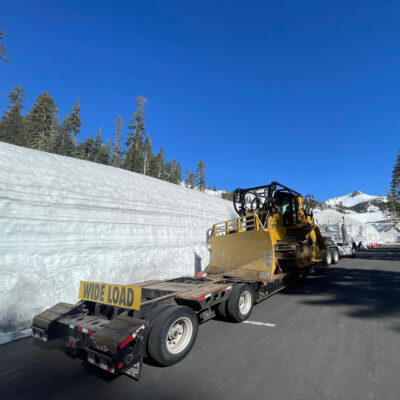 WIDE LOAD Sign on a National Park Service Tractor-Trailer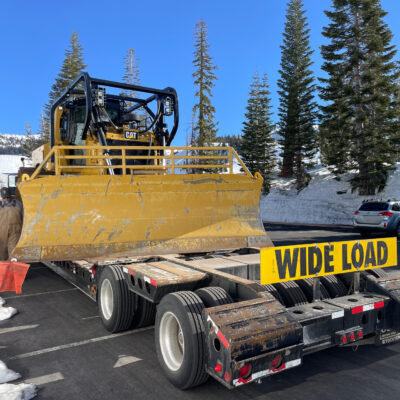 WIDE LOAD Wood Sign on the back of a trailer.
A member of our marketing team, Ben, and his two friends were at the Kohm Yah-mah-nee Visitor Center when a couple of National Park Service employees drove up – one in a power unit hauling a massive bulldozer and the other in a pilot car. Ben immediately spotted the Ms. Carita SafeTruck Wood Signs being used due to the easily identifiable "MS CARITA" by the "W" of "WIDE LOAD." There were also some Wire Loop Flags attached to Flag-Mags on the bulldozer blade. Noticing the truck safety signs and flags, Ben stopped prepping his RIDE SPLITPIG Snowboard and backcountry gear and walked over to the NPS employees to peep their truck safety gear a little closer.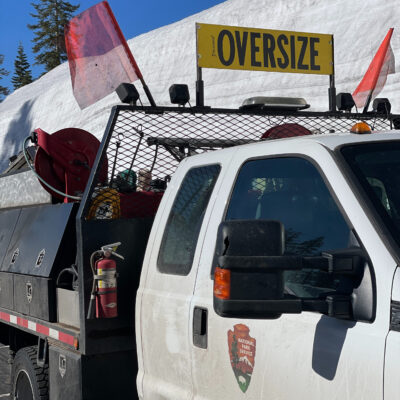 National Park Service Pilot Car with a WIDE LOAD sign and Safety Flags
After introductions, Ben talked to the drivers about their signs and learned that Lassen Volcanic National Park has been using Ms. Carita SafeTruck signs and flags for years. They get theirs locally from a distributor near Red Bluff, CA. But due to the barrage of snow storms this Spring, the National Park Service was a couple of weeks behind schedule on clearing the road for park visitors.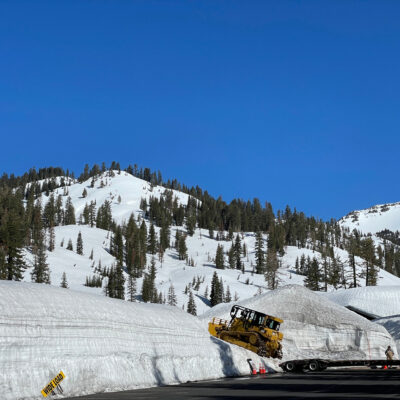 Bulldozer being unloaded in the visitor center parking lot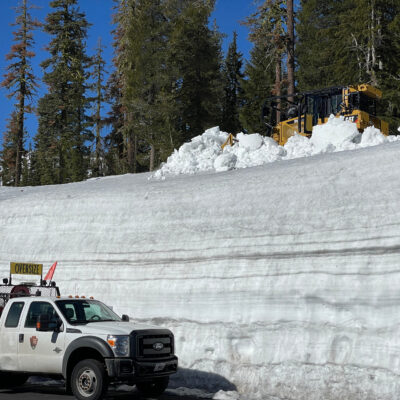 A National Park Service Bulldozer on a snowbank above the Pilot Car
Ben asked if he could take some photographs to which they allowed and advised that people do it all the time. After Ben and Josh took some pics, the employees unloaded the bulldozer and got to work clearing the road. Ben and his two friends then made their way to the backcountry and earned their turns on some fresh corn snow from the Spring weather.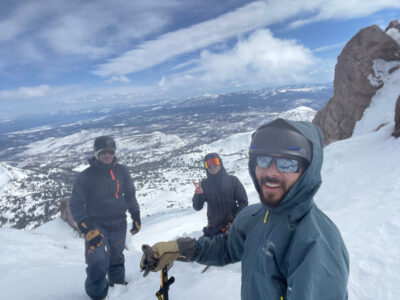 Ben (Left), Philip (Middle), and Josh (Right) on Lassen Peak.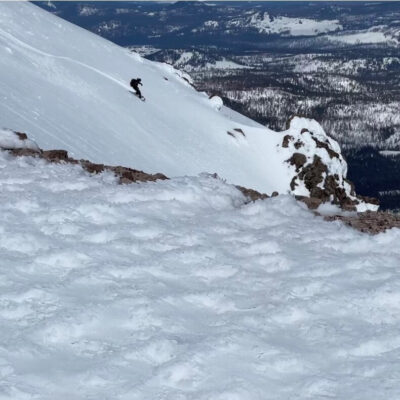 Ben dropping into a bowl on Lassen Peak
A big Thank You to the National Park Service for being SafeTruckers and using the best Truck Safety Products around.
Ms. Carita SafeTruck
Bigger. Stronger. Safer.