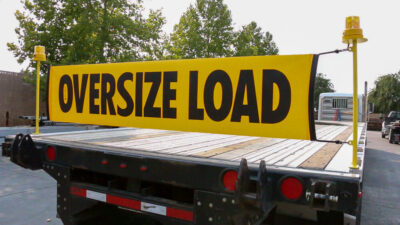 Stake Pocket Banner Brackets work Great with Ms. Carita SafeTruck Bungee Banners on Flatbed Trailers. Mesh banners are recommended for improved air flow and decreased wind resistance.
Enhancing Road Safety with Flatbed Trailer Banner Mounting Systems
Truck Safety Banners are more than just legal requirements; they're essential for keeping drivers and motorists safe on the road. These banners signal the presence of Oversize or Wide Loads and enhance visibility, especially in low-light conditions. However, proper mounting can be a challenge for drivers and safety managers. Banners flapping around, unsecured in the wind due to improper mounting is not only a hazard but also defeats their purpose.
Exploring Our Innovative Banner Mounting Solution
Our Flatbed Trailer Banner Mounting Systems provide the perfect solution. Crafted from sturdy metal with a durable yellow powder coat finish, these systems come in two designs: the Universal Banner Bracket and the Stake Pocket Banner Bracket.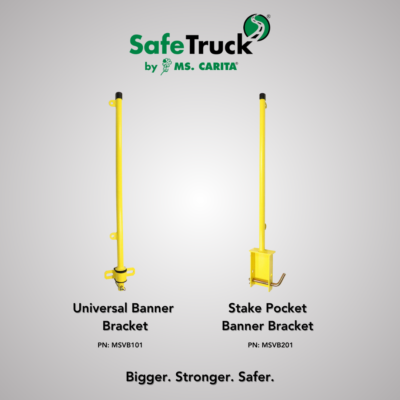 The Universal Banner Bracket and Stake Pocket Banner Bracket provide an easy and secure way to mount safety banners to flatbed trailers
P/N: MSVB101
Mounts to the sides or rear of the trailer
Features removable posts for convenient storage
Comes with all necessary hardware for easy installation
The yellow powder coat finish ensures longevity
The Stake Pocket Banner Bracket
P/N: MSVB201
Fits most trailer pockets securely
Boasts a solid, one-piece construction
Can be easily transferred between trailers
Also features a yellow powder coat finish
Eliminates the need for cumbersome 2×4's
How to Install Your Banner Brackets: A Step-By-Step Guide
Our installation guide on the packaging provides step-by-step instructions for installing these Banner Brackets. Whether you're using the Universal or Stake Pocket bracket, we'll walk you through the process with clarity and ease. No need to worry about additional tools; we include everything you need.
The Benefits of Our Banner Brackets

Our Banner Brackets solve the mounting challenges that truck drivers face. No more awkwardly tying banners with bungees or ropes to awkward places on the trailer or load, risking them falling onto the road. Say goodbye to hammering 2x4s into stake pockets. Instead, our banner brackets offer a secure and efficient solution for mounting grommet banners or bungee banners to your trailer.
For flatbed trailers with stake pockets, our Stake Pocket Banner Bracket offers easy installation. Simply place it into the trailer's stock pockets and secure it with the included pin. Metal loops on the bracket poles provide the ideal attachment points for your bungee banners or using your own bungees with grommet banners. Mesh banners are recommended for improved air Flow and decreased wind resistance.
If your flatbed lacks stake pockets, our Universal Banner Bracket is your answer. All the necessary hardware, including self-tapping bolts, is included for a hassle-free installation. Once the bracket and bushing are secured, the pole drops in, and you can secure it with a pin.
Both banner mounts also work seamlessly with the bracket strobe mount, providing a platform for a Portable Safety Light (P/N: PSLM2-A).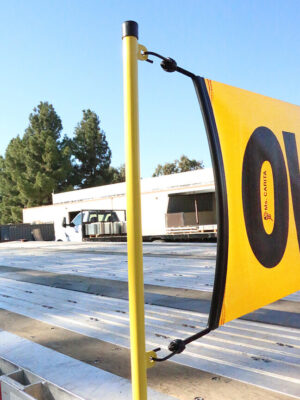 Our Banner Mounts provide an easy way to secure your safety banners to your flatbed trailers
Maintenance Tips: Keeping Your Banner Brackets in Top Shape
Caring for your Banner Brackets is simple. When not in use, remove them from the trailer and store them in your cab or toolbox. The Stake Pocket Bracket is entirely removable, while the Universal Bracket leaves a bracket and bushing permanently mounted but with a removable pole for storage.
Safety Considerations
The Flatbed Trailer Banner Mounting Systems ensure you stay compliant by securely mounting Oversize Load and Wide Load Safety Banners during heavy hauls. Compliance means other motorists can see your banner clearly, contributing to safer roadways. 
Where to Find Banner Brackets: Your Next Steps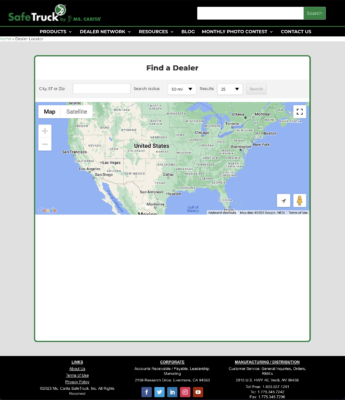 Find Ms. Carita SafeTruck Products Near You
Ready to make your Truck Safety Banners secure and hassle-free? Use our Find a Dealer page to find the perfect Banner Mount for your needs.
If you're interested in becoming a dealer or distributor, submit an inquiry and join our network.
For existing partners, contact us via our site Contact Us page, and our area representative will follow up with you.
Discover Bigger. Stronger. Safer. Solutions with Ms. Carita SafeTruck.